รายละเอียด
น้ำหอมผู้หญิง DKNY Candy Apple Sweet Caramel edp 50ml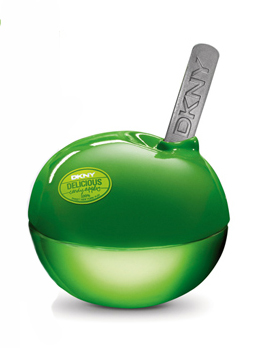 Sugared apples were inspiration for the latest collection of fragrances by Donna Karan, who is taking us back to our childhood with these editions, while playing with colours and attracting us with scents of sweet caramel, ripe raspberries and juicy currant.
Caramel, raspberries and currant are the main theme of DKNY Delicious Candy Apples, which can be expected on the market in February 2010. The fun collection is available in limited number, in red, violet and green flacons (50 ml EDP each).
Sweet Caramel is a sweet, tasty, simple fragrance created of sugared blend of fruit, flowers and candies to be a true challenge for all those you like sweets. A wonderful union of apple and pear in top notes with marshmallow takes us to a heart and blends with jasmine blossom which flirts with violet and lily wrapped in green freshness. A base incorporates creamy caramel, soft vanilla and cream which will please your wish for candies.
Perfume rating: 3.74 out of 5 with 193 votes.